About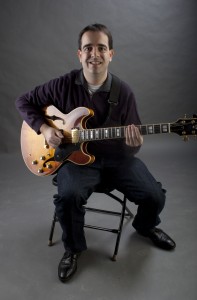 Originally from Philadelphia, Eric Stone is a contemporary guitar player, music educator, and arranger based in the greater Denver and Boulder area in Colorado
Eric was initially inspired to play guitar by many of the classic rock, blues, and metal guitar heroes.  As his guitar playing progressed over the years, Eric became interested in other styles of music including jazz, funk, fusion, and world music.  In 2008, Eric moved to the Los Angeles area to pursue music, and he earned a certificate in guitar performance from the world-renowned Los Angeles Music Academy College of Music in Pasadena.  At the school, Eric studied all contemporary guitar styles, music theory, performance, and orchestration. He also had the opportunity to learn from some of the top working and touring musicians in Los Angeles.
As a professional musician, Eric has performed with the guitar in a variety of musical genres and settings ranging from playing in rock bands in Hollywood to playing in funk groups to performing as a solo jazz guitarist at private parties and weddings.  Eric also arranged and performed the score to the short film Ofelia and Joe, and he arranged a song for the web series The Further Adventures of Cupid and Eros which was selected for the 2011 International TV Festival.
Eric also has significant experience as a guitar and music instructor since he first started teaching in 2002.  Eric has taught guitar in one-on-one settings and in small groups to beginning, intermediate, and advanced students in different genres.  He is experienced and comfortable teaching both children and adults of all ages and ability levels.  Eric has also taught keyboards to classes of elementary school students in an after school program.
Prior to following his passion in music, Eric earned a master's degree in education from the University of Pennsylvania.  As a teacher, Eric created original curriculum units at a progressive school in Philadelphia.  In addition, when he worked in the financial world, Eric designed extensive training materials for adults, and he gained valuable classroom experience working with adults as a trainer.  Eric also holds a bachelor's degree in economics.
Outside of music, Eric is an avid hiker and backpacker, and he has had the good fortune to visit some of the most spectacular national parks and wilderness areas throughout the United States.  Eric also enjoys reading, traveling, cooking, exercising, and rooting for the Philadelphia sports teams.